Ignition Scada
Ignition delivers unlimited web-based monitoring and control for your entire facility. With Ignition you can see, control, and analyze your data like never before.
---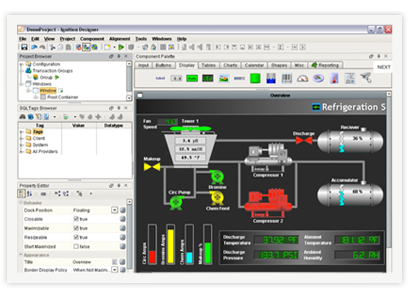 ---
Features
Web-Based: All you need is a web browser and Java
Installs in Minutes: Installation headaches are a thing of the past
Server Centric: Manage your entire system from one place
Powered by Databases: Supercharge your data with SQL databases
Cross Platform: Never worry about what operating system you use
---
Additional Information
Web-Based Deployment
You can manage your entire SCADA system in one central location, and launch clients on individual machines with no direct installation required.
Unlimited Licensing
Ignition is unlimited, which gives you the freedom to add unlimited clients, screens, tags, connections, and devices.
Security & Stability
Ignition is built upon industrial-grade security technology with a solid, unified architecture and built-in redundancy. Ignition has proven itself to be more secure and more reliable than traditional HMI / SCADA software.
Real-Time Control & Monitoring
Ignition's real-time status controls and analytics give you the power to quickly analyze and easily display the status of your facility.
Rapid Development
The Ignition Designer's object-oriented development environment, rich component library and data-binding functionality allow you to quickly create powerful, dynamic HMI / SCADA projects that can be fully customized.
Easy Expandability
Ignition is a modular software platform offering a high degree of customization. All Ignition modules work seamlessly, and never require you to shut down your system to add functionality.
---
Related video
---